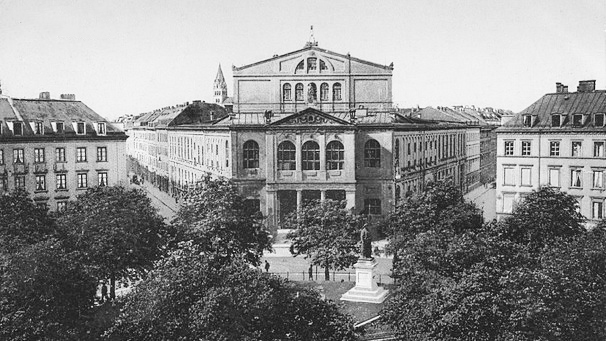 Dachgeschossausbau zu einer Penthousewohnung 
Fertigstellung, 2017
Gärtnerplatz, München
Der Entwurf für den Dachgeschossausbau eines Gebäudes am Gärtnerplatz, in direkter Nachbarschaft des Theaters sieht eine großzügige, 160 Quadratmeter Penthouse-Wohnung auf den beiden Gebäudeschenkeln vor. Die Wohnung gliedert sich in einen privaten und einen kommunikativen Bereich. Die Erschließung erfolgt über ein Treppenhaus mit neu errichtetem Aufzug. Von dort gelangt man in den kommunikativen oder öffentlichen Bereich, bestehend aus Wohnzimmer, Küche und Esszimmer. Im zweiten Schenkel des Hauses befinden sich die privaten Bereiche mit Arbeits- Schlaf- und Badezimmern. Dieser Bereich bietet eine zusätzliche Erschließungsmöglichkeit über ein weiteres Treppenhaus. Durch Einschnitte in die Dachhaut entstehen Loggien, die den einzelnen Bereichen zugeordnet sind. Den Mittelpunkt bildet die große Wohnküche mit Essbereich und Loggia von der sich ein ungestörter Blick über die Stadt werfen lässt. Hier treffen sich der private und der öffentliche Bereich des Apartments. Eine umfassende Bestandsaufnahme des Gebäudes sowie der Umgebung war die Voraussetzung für den sensiblen Umgang mit dem Ensemble am Gärtnerplatz. So wird die Traufkante auf der Platzseite durch eine Gesimserhöhung gestärkt und gleichzeitig ein Übergang zum Nachbargebäude geschaffen. Die neu geschaffenen Dachgauben orientieren sich am bestehenden Fassadenraster und akzentuieren durch einzelne größere Formate den Gebäudeabschluss sowie die prominente Gebäudeecke gegenüber dem Theaterbau.
The design for the attic conversion of a building at Gärtnerplatz, within the immediate vicinity of the theatre, provides a spacious 160 square meter penthouse apartment atop both flanks of the existing building. The penthouse is arranged in public and private areas. Access is provided by a staircase with a newly constructed elevator. You enter the apartment in the public area, consisting of living room, kitchen and dining room. The second zone of the apartment houses the private functionalities containing the study, two bedrooms and two bathrooms. This private wing of the penthouse can be accessed via a separate staircase. New Loggias have also been created through cuts in the roof cladding. The focal point of the apartment is the large kitchen with dining area and loggia from which an undisturbed view of the city can be enjoyed. This is the moment where the private and public areas of the apartment meet. A comprehensive survey of the building and its surroundings was necessary for the sensitive treatment of the ensemble at Gärtnerplatz. Thus, the eaves edge on the square side is strengthened by a cornice increase and at the same time a transition to the neighbouring building is created. The newly created dormers are aligned to the existing grid of the façade. The widening of the dormers on the end of the building accentuates the end of the building and the prominent building corner opposite the theatre building with individual larger formats.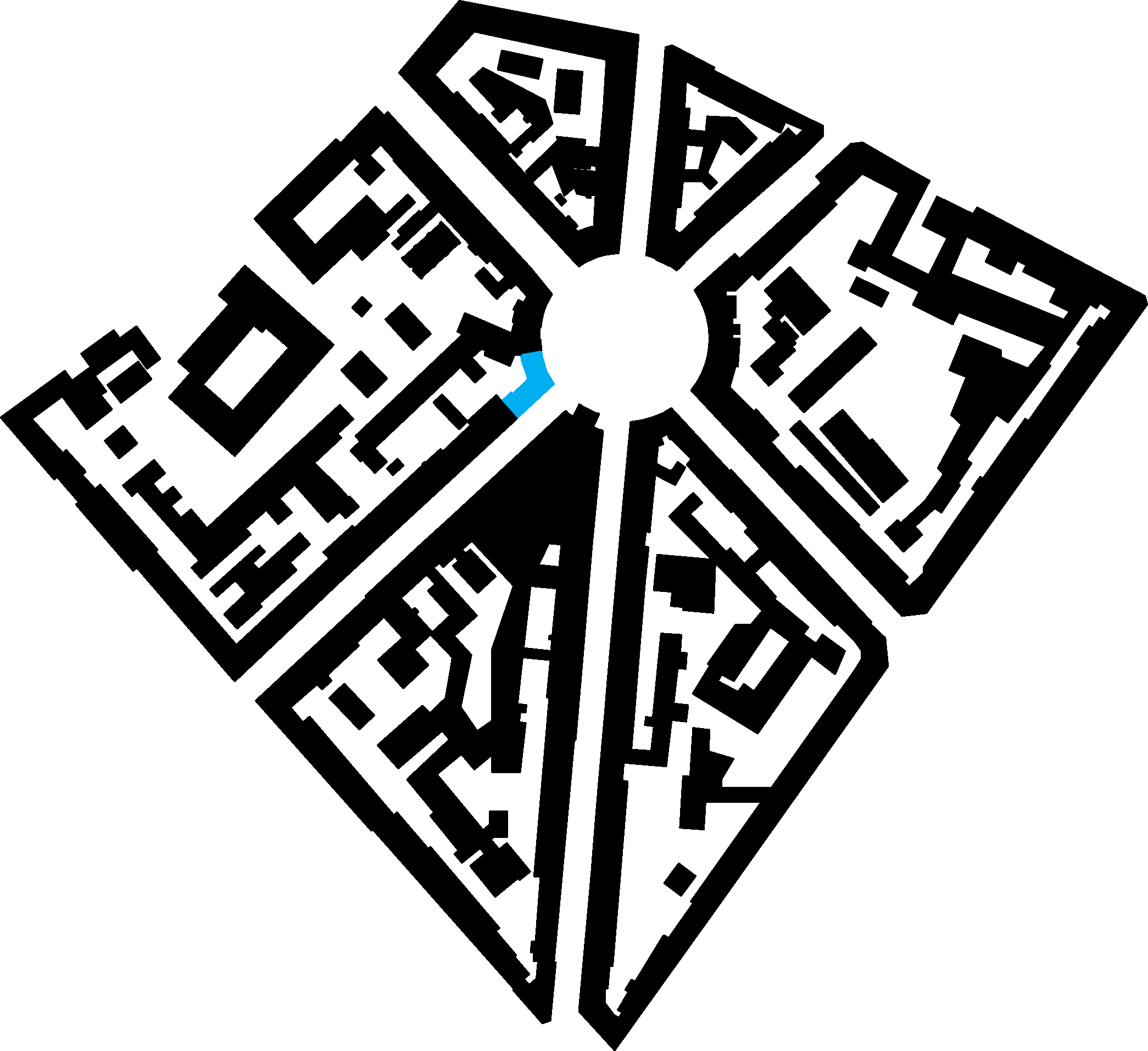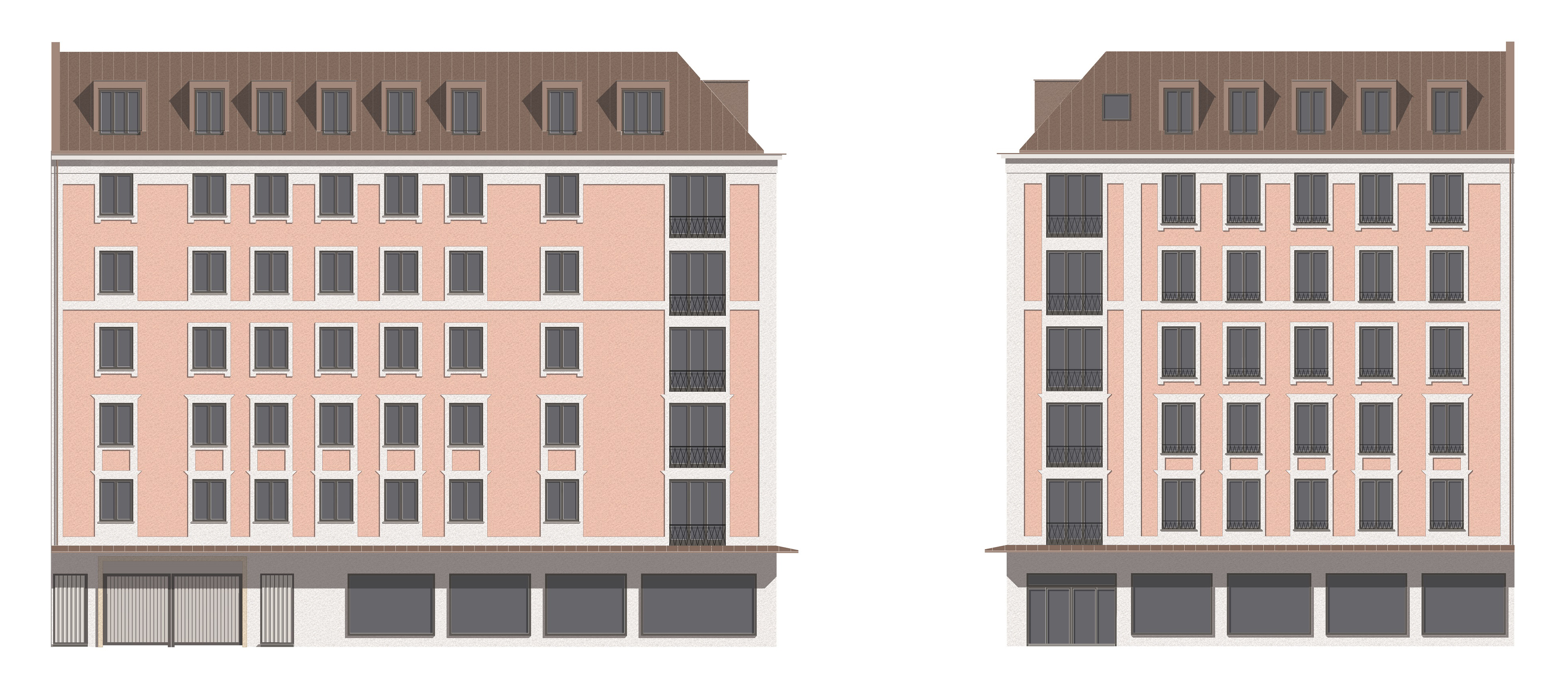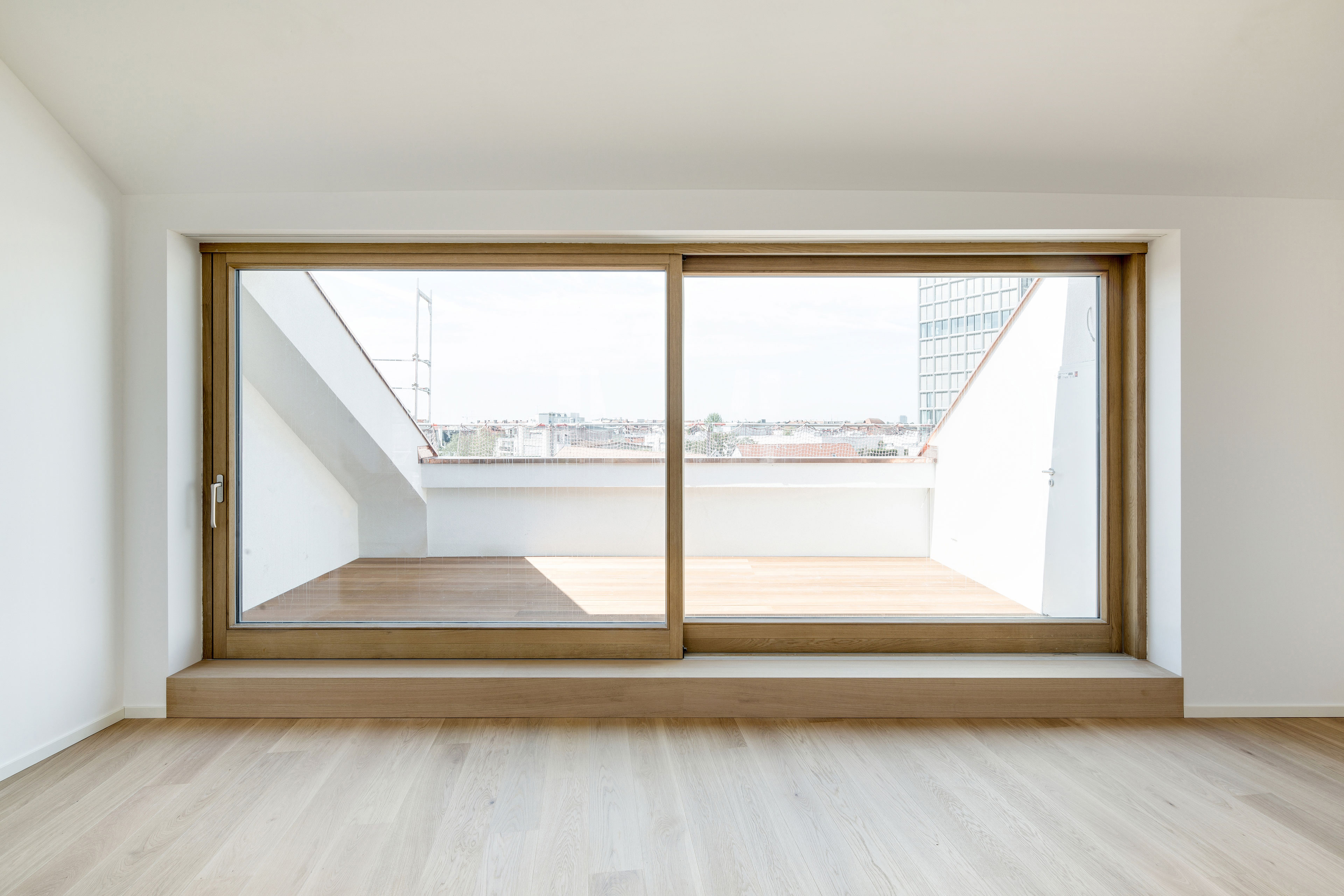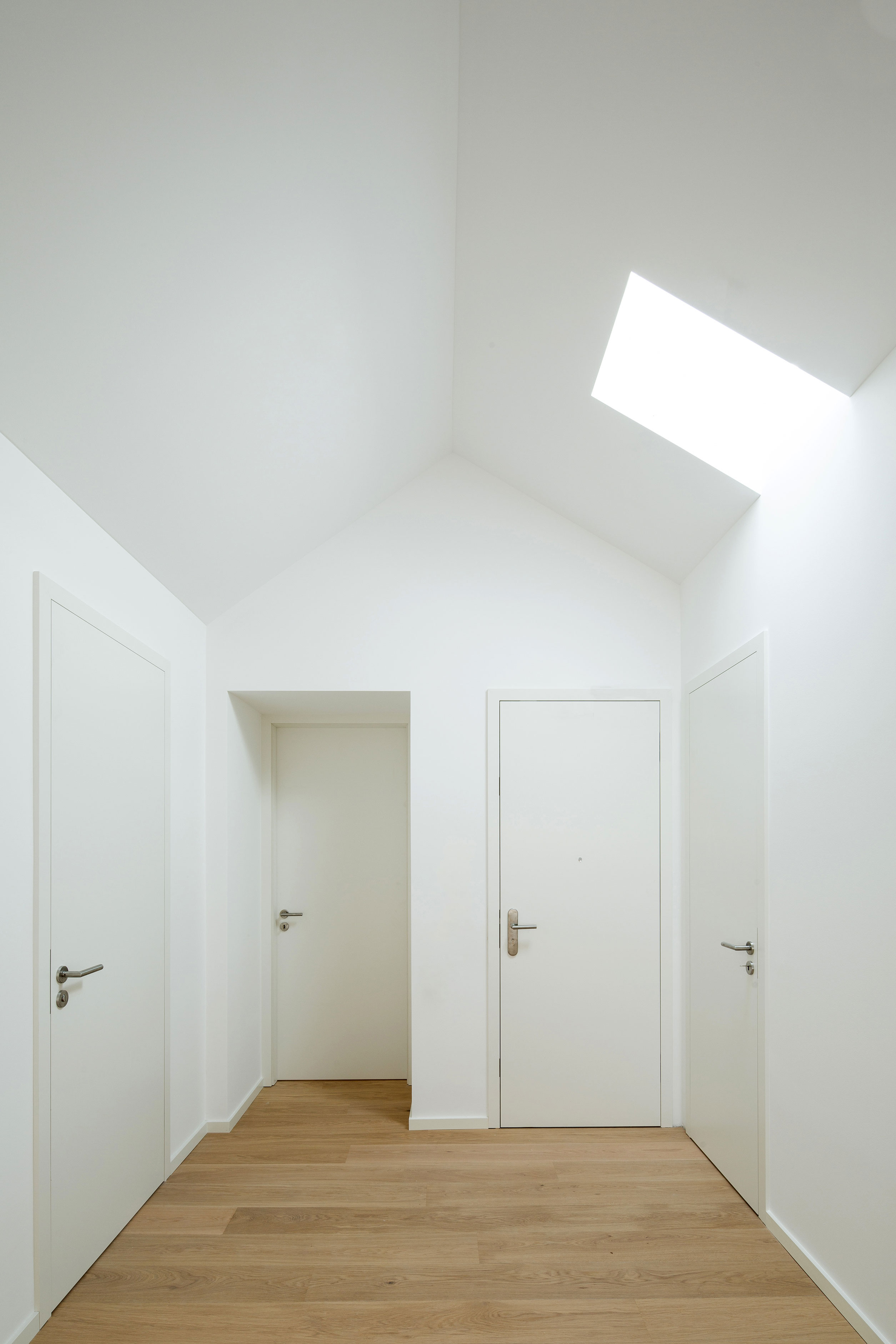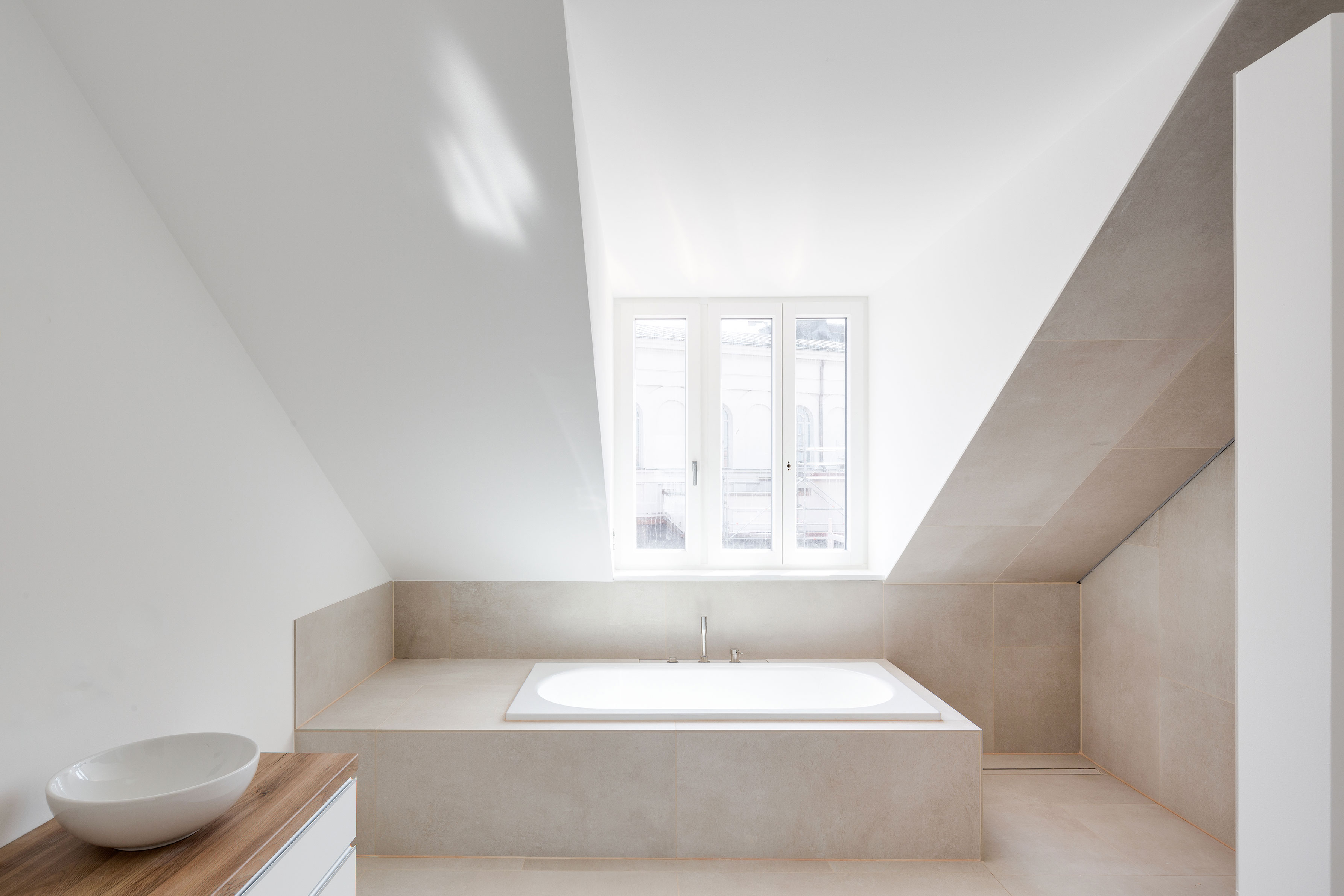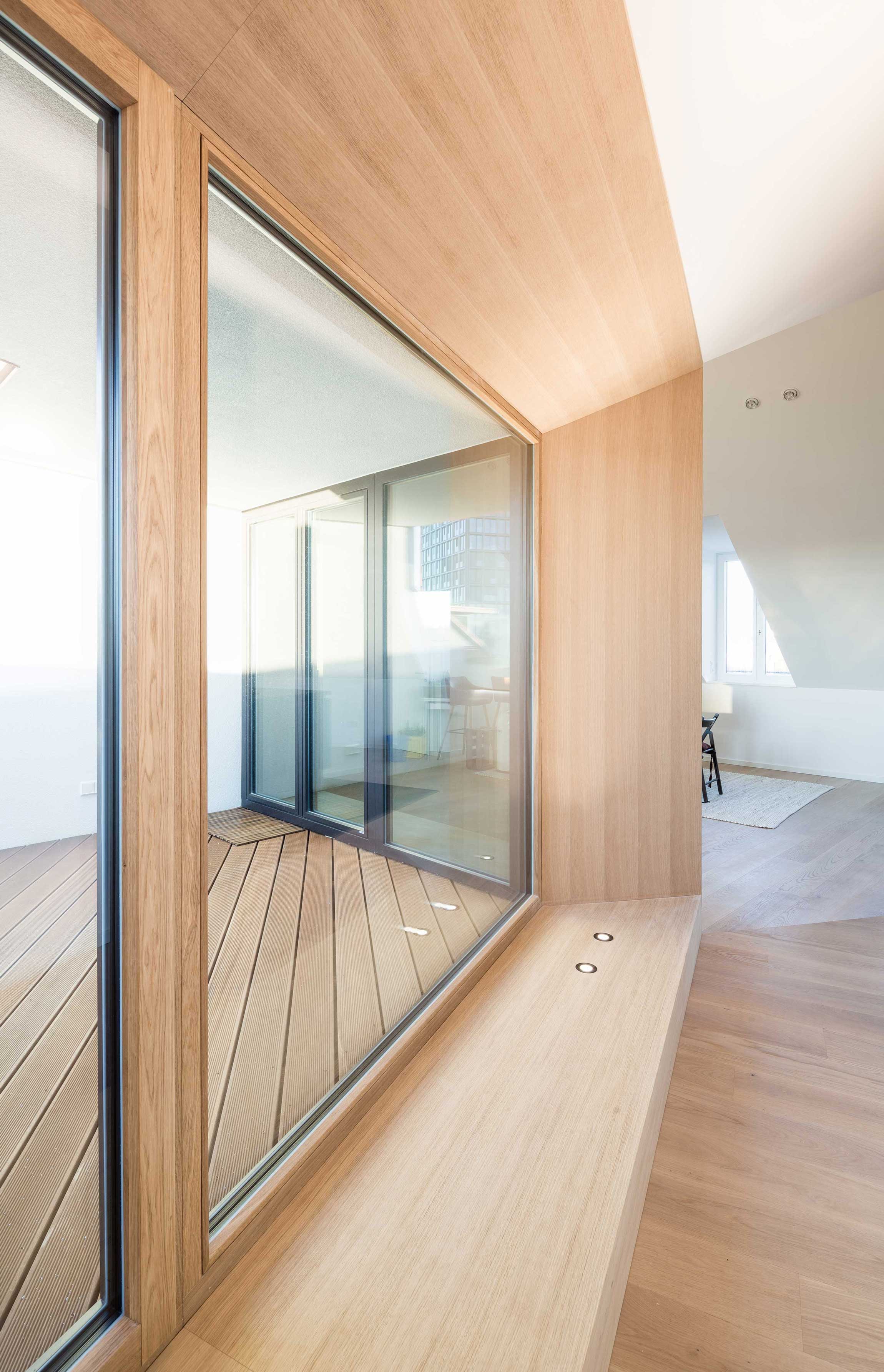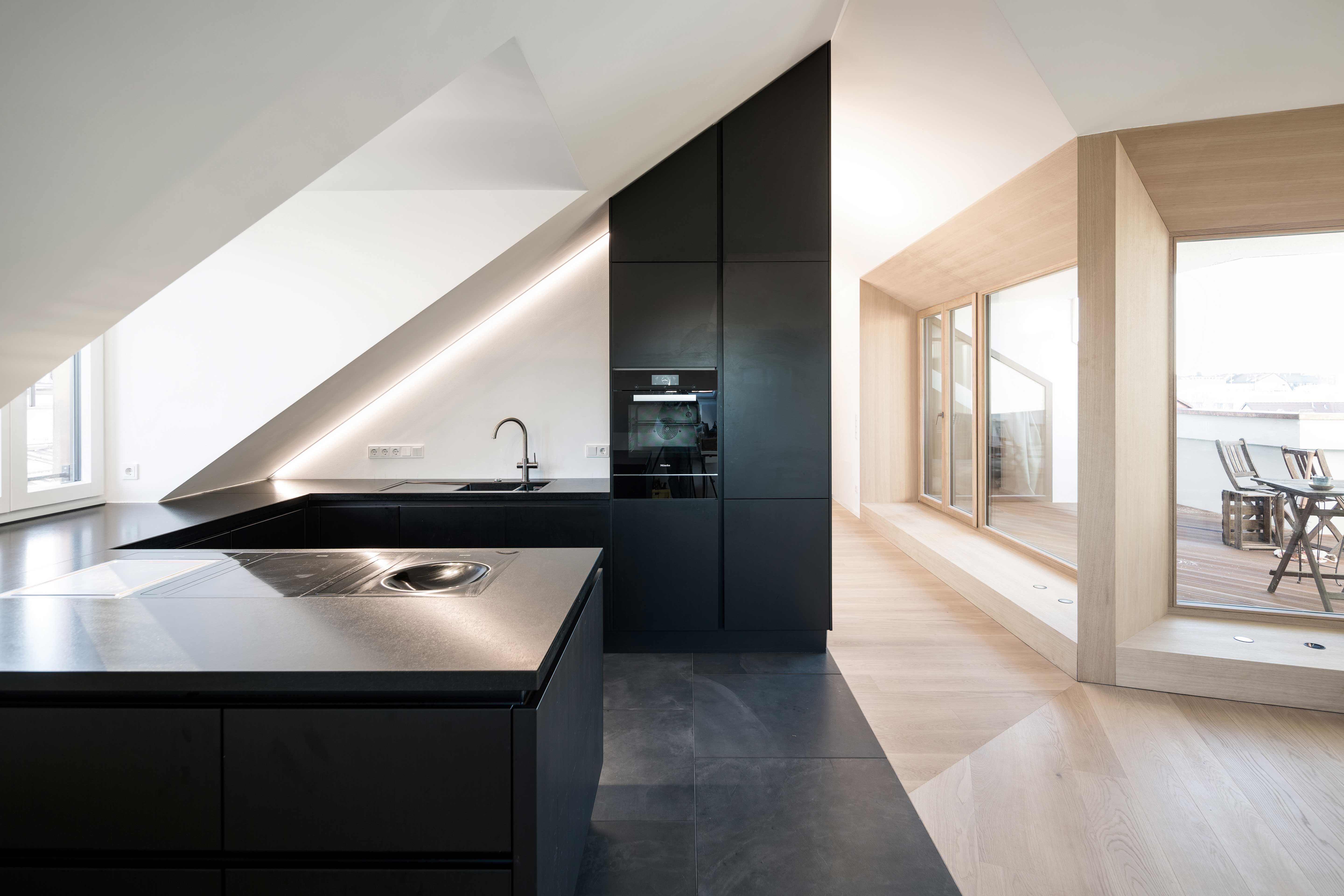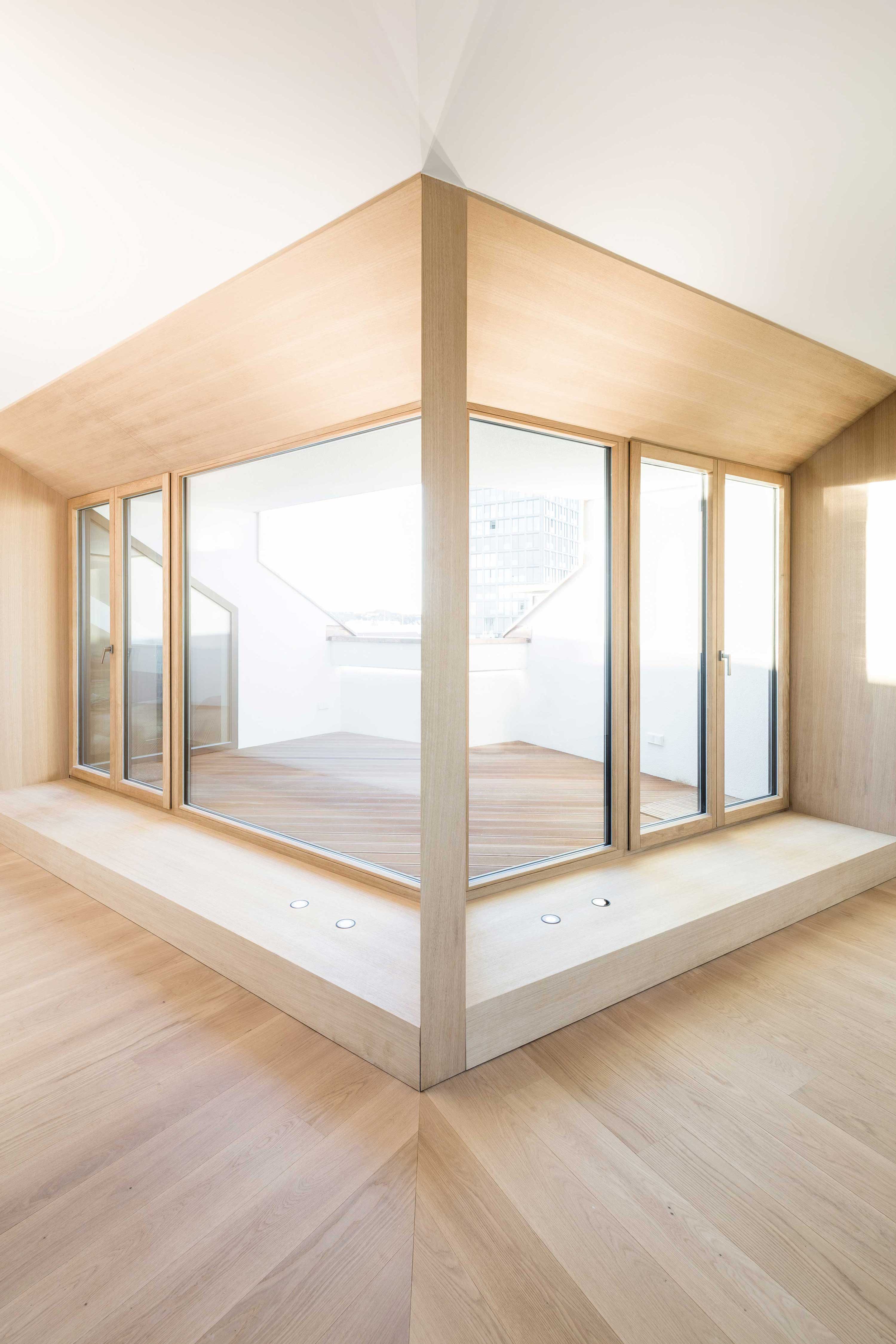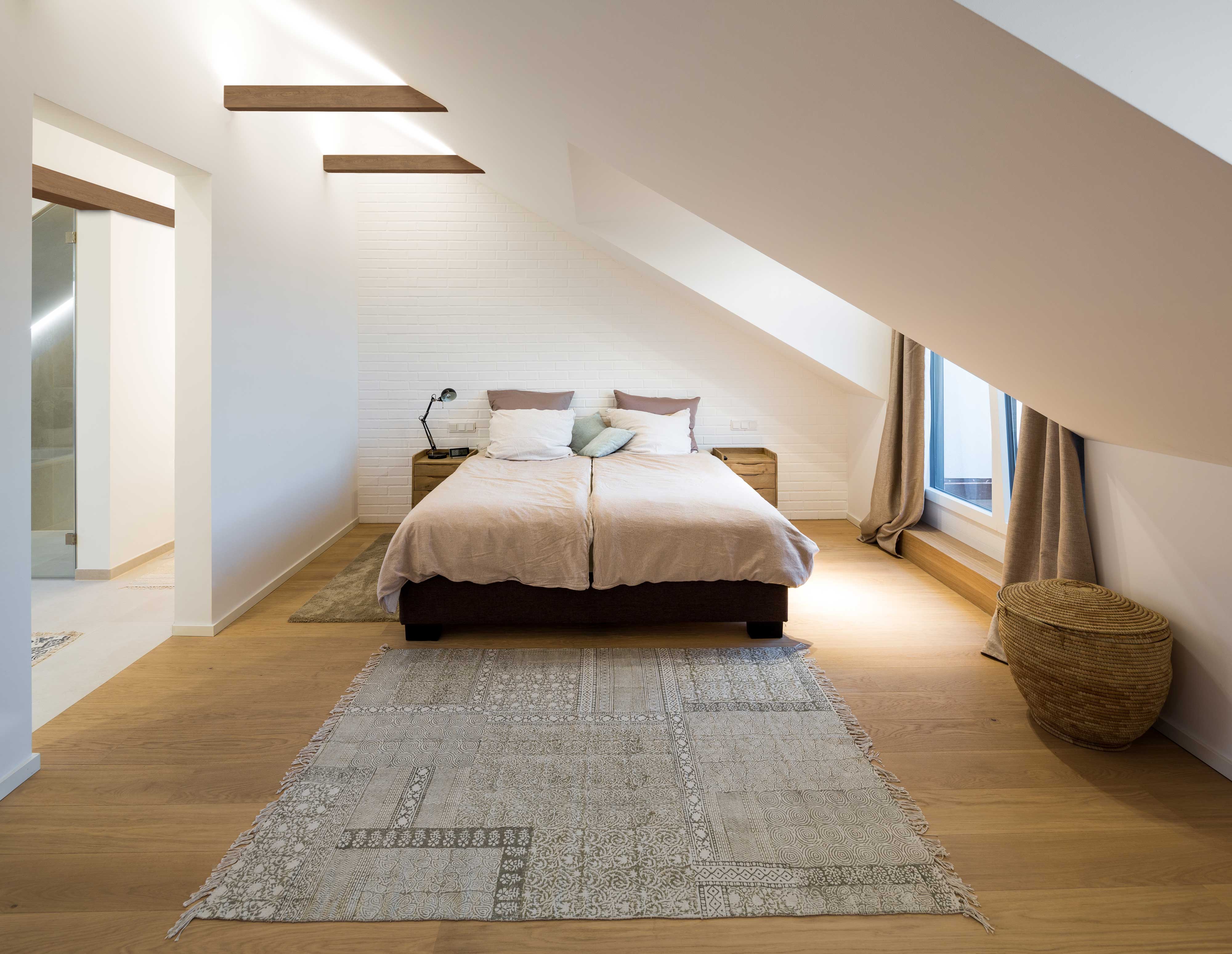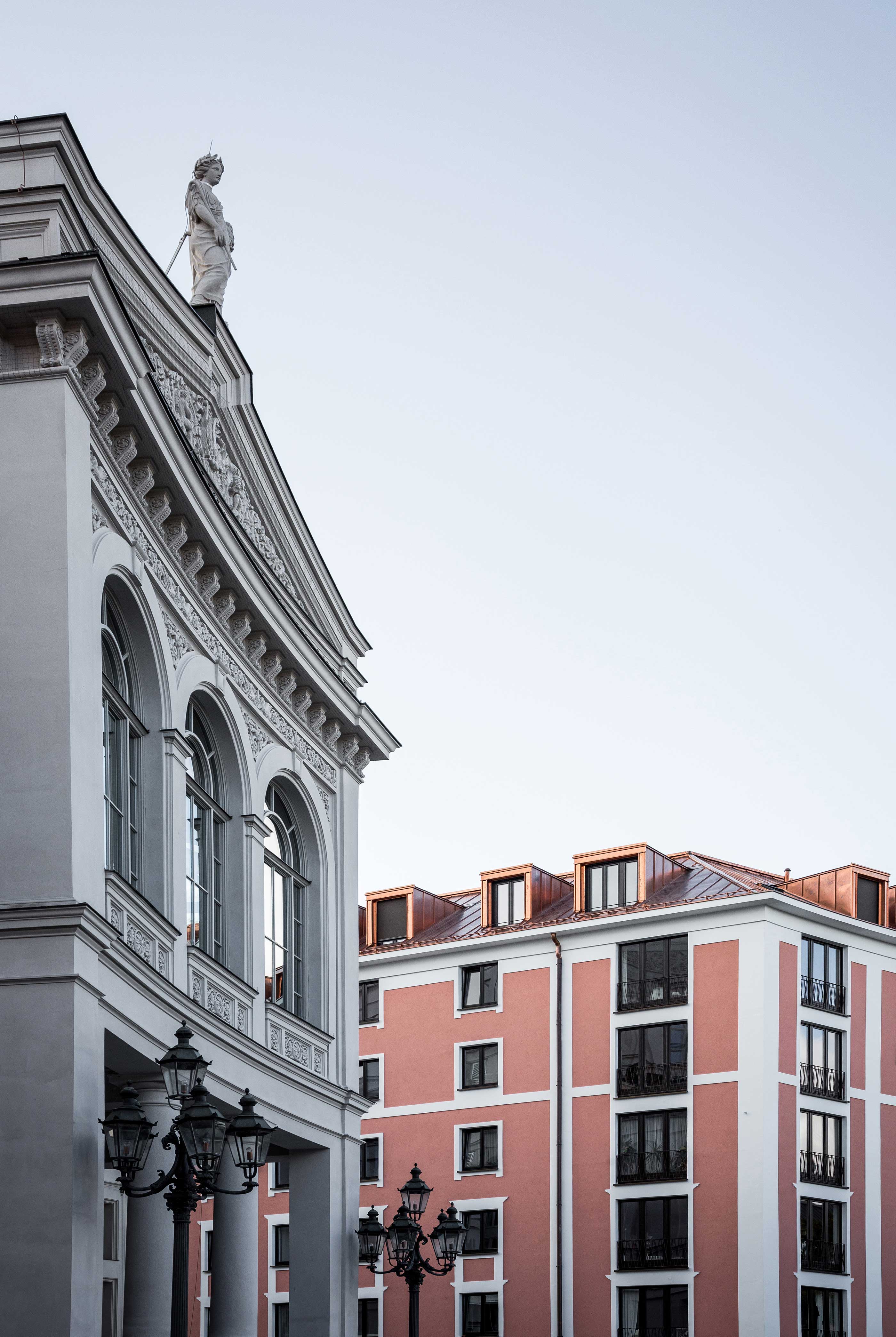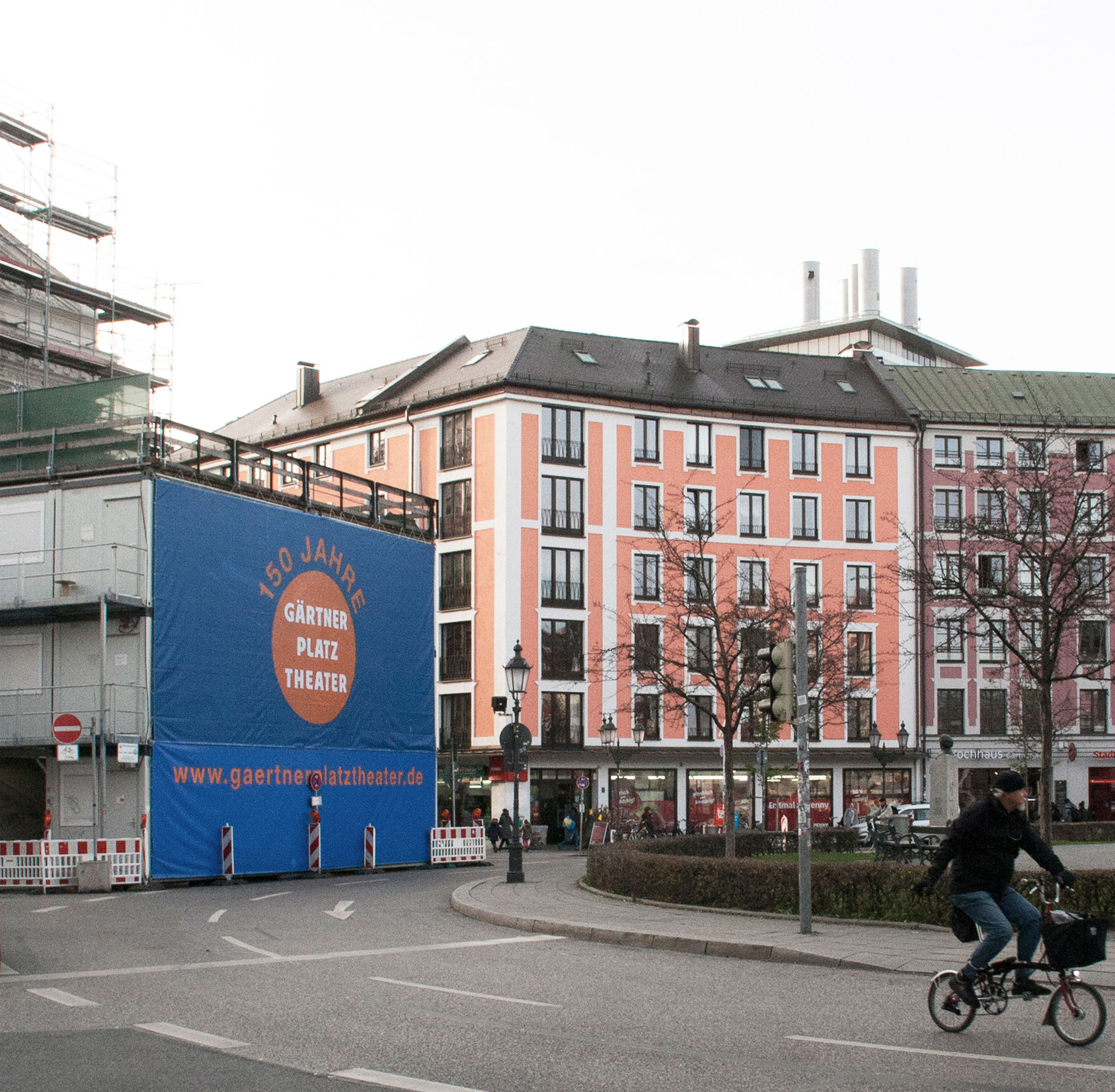 Vorher